Racquets
Tennis. Pickleball. Platform Tennis.
Enjoy Exceptional Racquets
Amenities
3 Har-Tru Clay Tennis Courts
6 Outdoor Hard Tennis Courts
6 Indoor Hard Courts (covered by a semi-permanent air structure from October-April)
3 Platform Tennis Courts
Racquets Pro Shop
Racquets Pavilion with Outdoor Firepit Terrace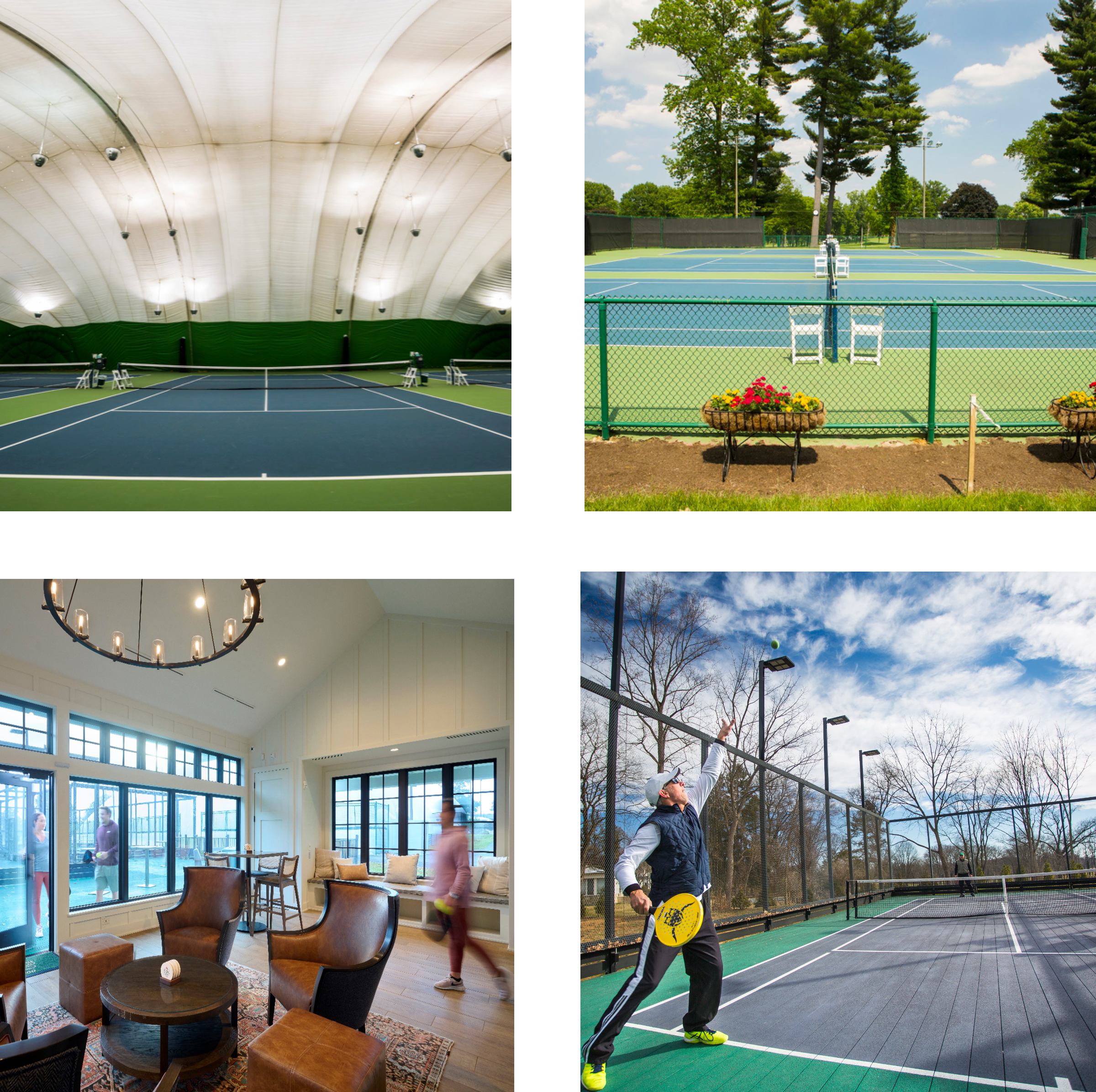 Be a Part of a Thriving Racquets Community
Tennis
As the most established racquets program at LCC, tennis is open to members of all ages and ability levels. Whether you're interested in playing competitively or learning the basics as a way to stay active, there's a tennis opportunity ready to welcome you.
Pickleball
Introduced to the LCC racquets line-up in 2020, pickleball is a paddleball sport that combines elements of badminton, table tennis, and tennis and is one of the fastest growing sports across the country with extraordinary growth and participation within the LCC community. As a great form of exercise, pickleball is enjoyed by members of all ages and skill levels.
Platform Tennis
As an outdoor sport that is enjoyed during the winter months, Platform Tennis is played on a small court that is surrounded by fencing that allows players to play off the screens. Paddle Tennis has gained an avid following among members at LCC who embrace the social aspects of the sport often gathering at the firepit lounge and Racquets Pavilion after a round of play.
Racquets Social Events
The LCC Racquets Calendar is brimming with social events including the Sip & Serve Mixed Doubles Tennis Social, the Dinks and Drinks Pickleball Social, Monthly Junior Racquets Nights, and more! These events are great opportunities for participants to meet and connect with other members.
Junior Racquets
The Junior Racquets Program is made up of tennis, pickleball, and platform tennis. Each racquet sport is unique, and together they create a total racquets experience for juniors that is unmatched in Central Pennsylvania. The Junior Racquets Program offers instructional, competitive, and social programs for juniors of all ages.
Passionate and Experienced Racquets Professionals
The passionate and talented LCC racquets professionals pride themselves on their extensive industry certifications (USTA, USPTA, PPTA, the 2019 Men's 19+ Double US Open Champion Pickleball Pro, and more!) that enable them to provide members with top-tier racquets training. Members enjoy the high energy and personable approach to racquets of the professional staff.
What Members are Saying about LCC Racquets
We initially anticipated enjoying some golf as a family and using the club for business purposes. Soon after joining we quickly realized how much our whole family enjoyed tennis. It has been amazing to watch each of us, mostly beginners, grow in our skill and love for the sport. That would not have happened without the help of the amazing tennis pros and the community of tennis families that we now call friends.
My husband, John and I joined LCC after having only lived in Lancaster for a year. We were dran to the tennis programs and opportunities even though we "played" a total of 5 times in our life and didn't even know how to hold a racquet. The Director of Racquets, Michael Jordan has nurtured a fun, family atmosphere, and his passion for tennis is contagious! Our favorite thing about our membership at LCC is TENNIS, TENNIS and TENNIS! The pro's are fabulous, there is someone for every personality and learning style. All of my new best friends have surprised me most about my membership! I didn't expect LCC to be my social life. I've met some amazing women from tennis and we have a genuine community and support system. Sometimes I forget that I've only known them for a short period of time.