Why become a member?
It is an exciting time at Lancaster Country Club. With a renovation and expansion project underway, LCC will bring forth the next generation of first class amenities to accompany our championship golf course creating a membership experience unparalleled in our region.
Whole Family
A place for everyone in the family: Read about the 4 Benefits of Joining a Country Club for the Whole Family.
Premier Golf
Access to premier golf: The Flynn golf course is one of America's best courses, ranked among Golf Magazine's Top 100 Classic Design Courses. As host of the record-breaking U.S. Women's Open Championship in 2015, the entire world took notice of what a spectacular golf experience Lancaster Country Club provides. Announced in late 2018, LCC will be the host of the 2024 U.S. Women's Open Championship.
Junior Program
Access to superb junior program to help your children stay active, develop sportsmanship skills, make friendships and train with some of the area's premier professionals all in a safe and fun environment. Visit the LCC Junior Page to learn more about LCC's Junior Programming.
Superior Dining
Lancaster Country Club is proud to offer superior dining in a myriad of dining venues. The club is dedicated to serving the diverse dining tastes of its members, offering casual dining in the Flynn Grille and Bar, The Flynn Terrace during the spring and summer seasons, as well as quick service at the pool Stingray Cafe and new Sunset Bistro.
6 Common Membership Questions
What are the membership options?
Regular (golf), Club (social and/or tennis), Non-Resident (reside 40+ miles away).
How much does membership cost?
Each category has a different level of initiation fees and annual charges. Depending on your single vs. married vs. family status, costs vary. Please contact the Membership Director for details.
What are the food and beverage minimums?
LCC does not have any minimums.
Do I need sponsors and if so how many? What is required of them?
Yes, member applicants need 1 proposer and 3 sponsors, all of which must be current members of LCC. The proposer and sponsors must provide a letter of recommendation.
I am new to the area and don't know any members, can I still join?
Yes, it is still possible to join LCC. You will still need 4 sponsors and LCC's Membership Director is available to help facilitate connections.
Is there a waitlist?
As anticipated, we received a surge in new members during and after the construction phase of our renovation and expansion project, A Defining Moment. There is currently a short waitlist for both our Regular (golf) and Club (social and/or tennis) memberships.
Membership book
To learn about Lancaster Country Club's amenities, scroll through our membership book shown below.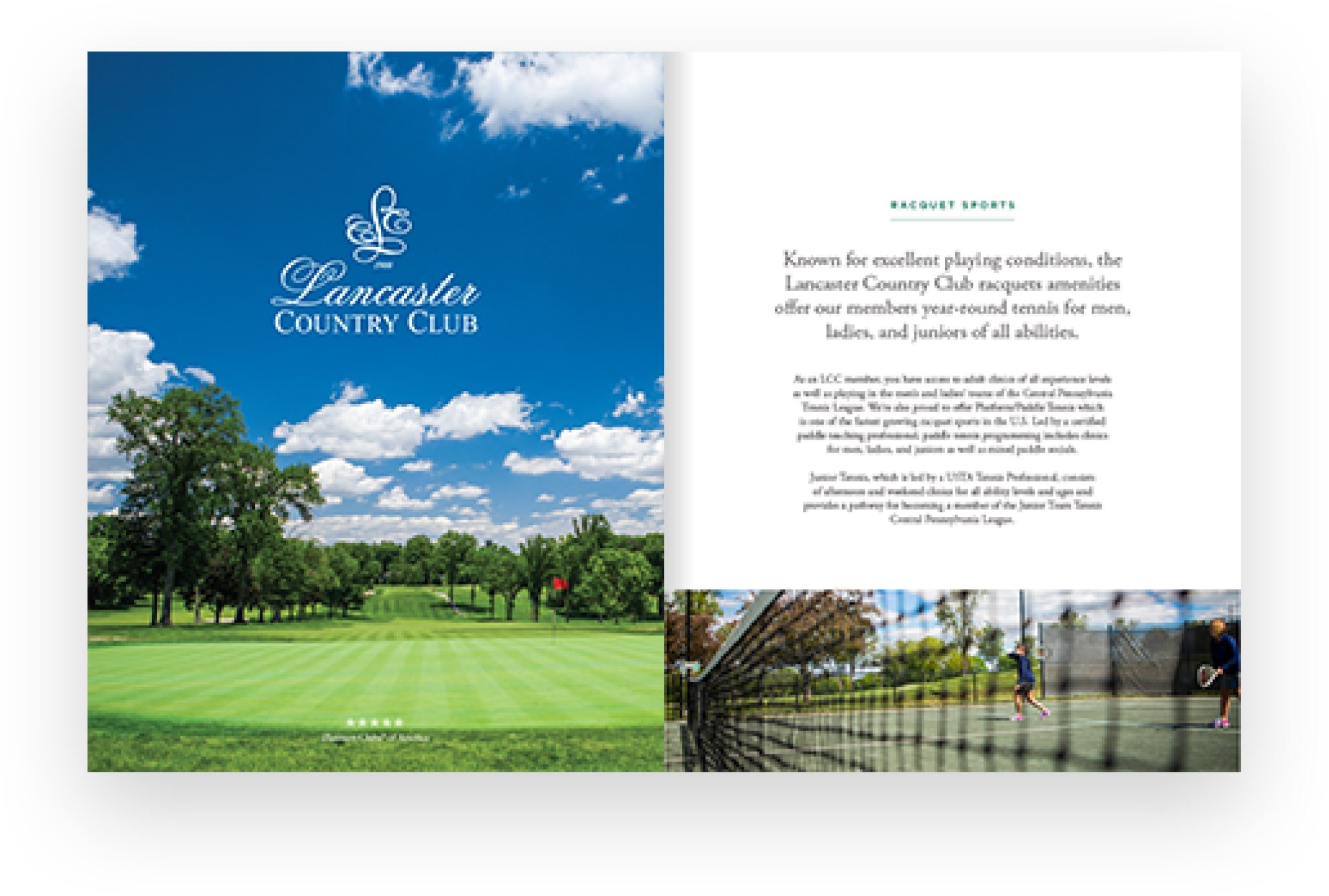 Ask About
Membership
Lancaster Country Club is here to be your family's
home away from home. For questions and inquiries
on membership options and pricing,
please complete the contact form.