Phones:
Clubhouse: 717.393.3886
Golf Shop: 717.393.4064
Racquets Shop: 717.394.4487
Caddie Master: 717.393.2426
Address:
1466 New Holland Pike
Lancaster PA 17601
Additional information
Lancaster Country Club is a private club and all guests must be
accompanied by a member.
Prior to visiting the club, we encourage you to review our policies as
we want to ensure that you enjoy your experience.
We look forward to your visit.
Clubhouse/Dining
Golf attire, tennis attire, business attire, with neatly pressed, properly fitted slacks, appropriate shirt with collar or mock collar. Men must remove hats, visors or caps when indoors, and in all covered dining areas – "no cover under cover." Tasteful, properly fitted denim is permitted in the clubhouse and 19th Hole year-round, exclusive of Club holiday social events. Denim is inclusive of jeans, skirts and shirts. Frayed, mottled, acid washed, cutoff or grunge denims are not considered tasteful and are not permitted on Club grounds.
Golf
Apparel that is specifically designed for golf will be considered acceptable attire. However, members are encouraged to consider common sense, respect for tradition, modesty, and the comfort level of fellow members when making casual attire dress code decisions that are also age appropriate.
Men and Boys Dress Code
All golf shirts must have a collar or mock collar. Shirts must be tucked in at all times. Traditional "Bermuda" shorts are permitted, but they must be no shorter than four (4) inches from the middle of the knee as measured while standing. All hats, visors, and caps must be worn with bills to the front, and outdoors only. Hats, visors, and caps may not be worn in the Clubhouse or under cover (i.e. awnings)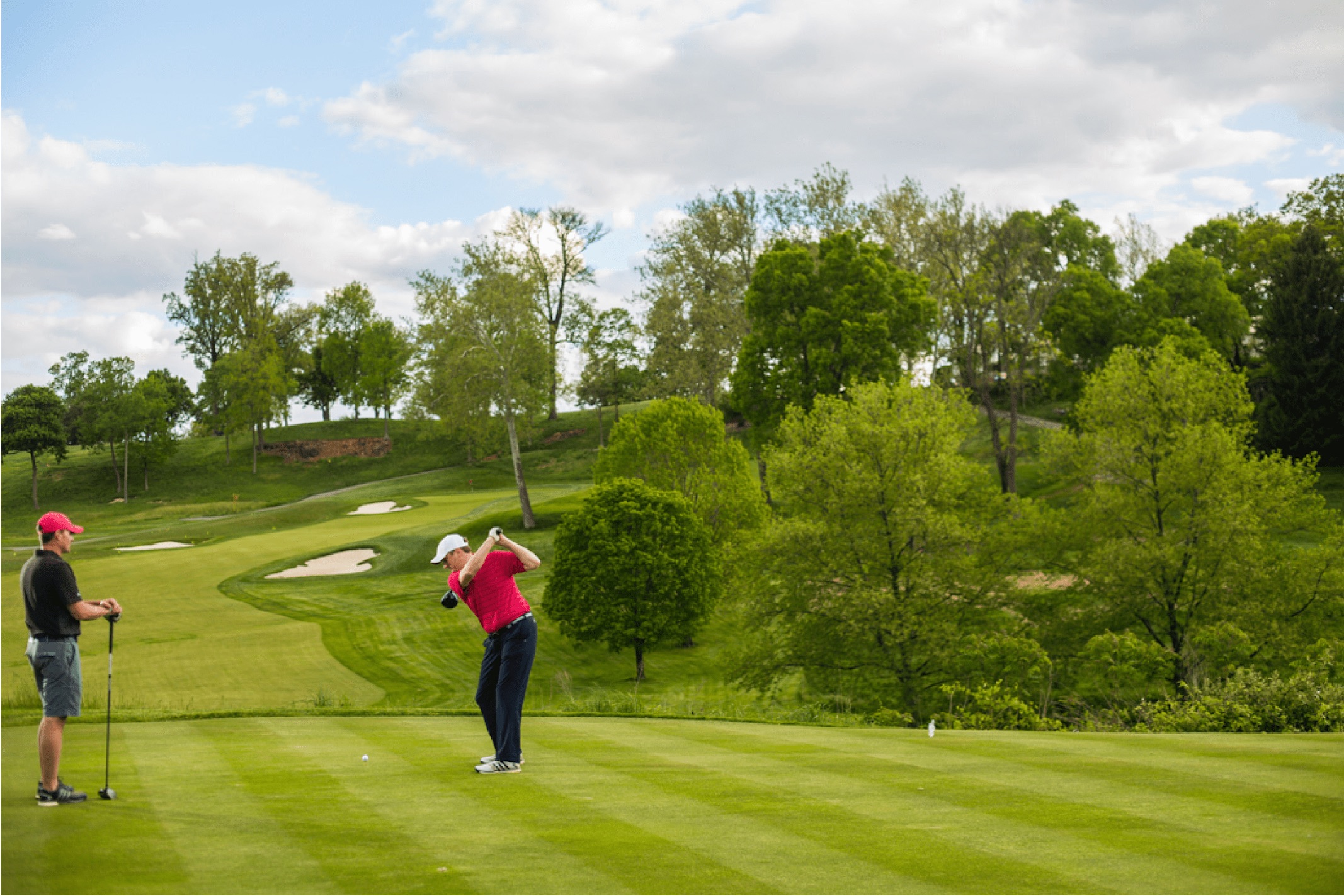 Ladies and Girls Dress Code
Golf shirts may have short sleeves, long sleeves, or sleeveless. Shirts without collars must have sleeves. Any type of tank top or halter top is not permitted. Golf shorts, skirts, dresses, leggings (if worn for warmth) and slacks are considered acceptable golf attire. Tasteful, specifically designed golf attire for juniors will be considered acceptable. Tasteful, specifically designed golf attire for ladies must be no shorter than mid-thigh.
All Golfers
Denim jeans, cargo pants, athletic shorts, and sweat clothes are not appropriate golf attire. Only approved golf shoes with non-penetrating spikes or sneakers are permitted. The changing of shoes and/or clothes must be done in the locker rooms. Neatness in dress is always a prerequisite and extremely important.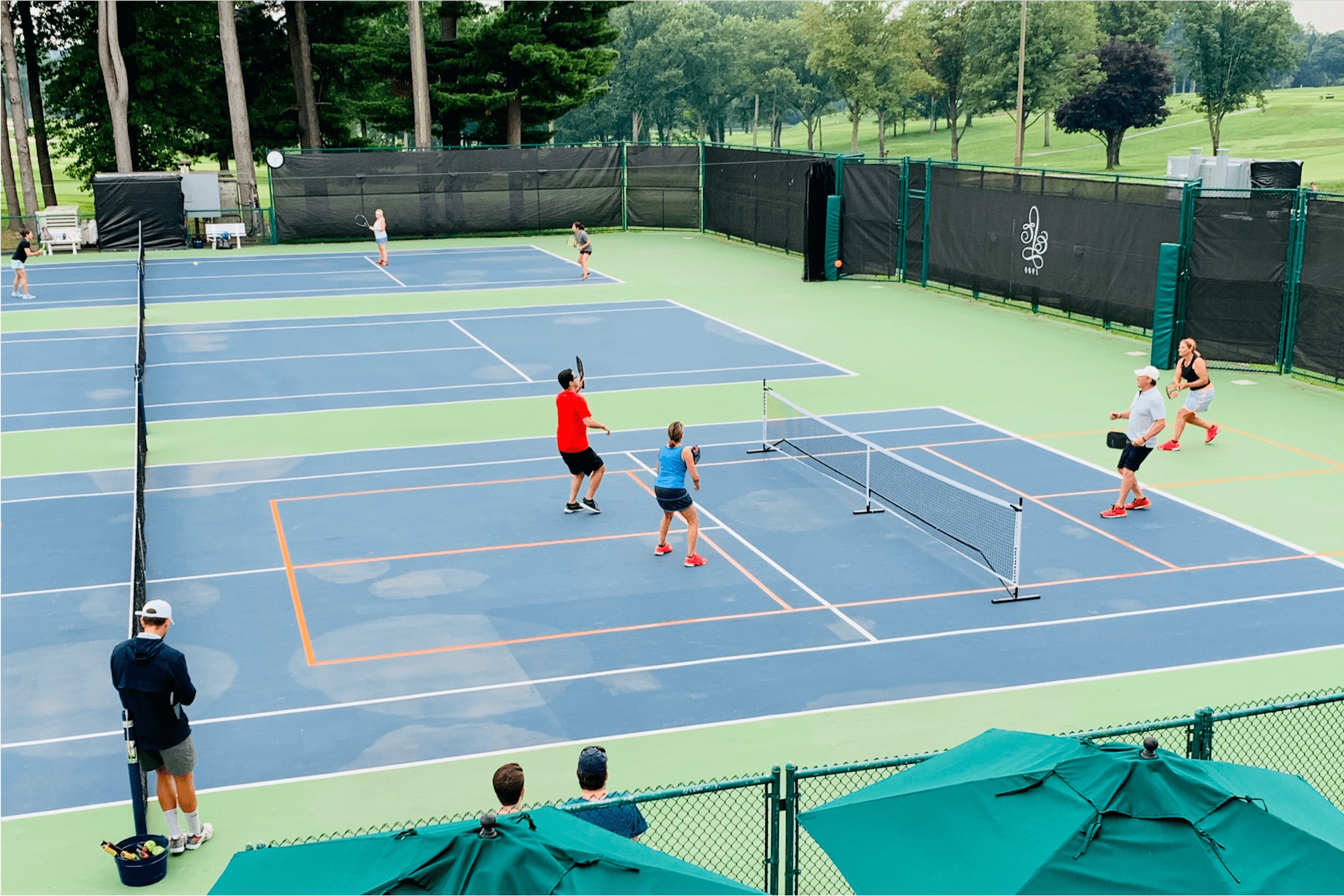 Racquets
All players must wear non-marking, smooth soled "tennis specific" shoes. Running and Cross-Training shoes are not allowed on the Har-Tru courts under any circumstances. All players must wear appropriate tennis attire at all times.
Appropriate tennis attire includes "tennis specific" shirts with sleeves, "tennis specific" shirts with or without collars, skirts, and shorts manufactured by a tennis apparel company and intended to be worn for racquet sports.
While actively playing racquet sports, hats may be worn bill backwards, but may not be worn backwards while off court or while entering or exiting the court surfaces.